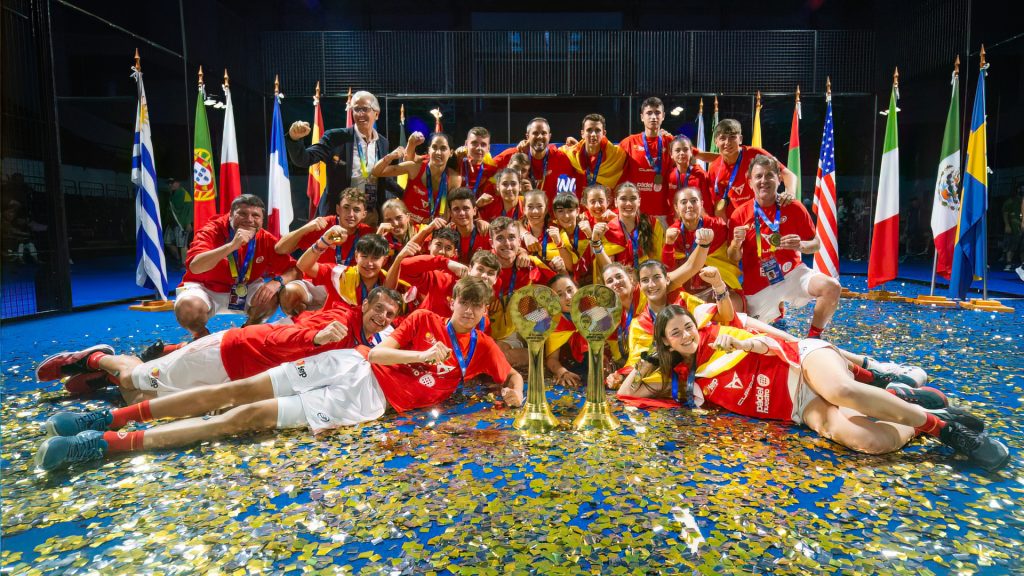 Spain won, but so did Paraguay, the organising country of the FIP Juniors World Padel Championships, and all the federations involved. In Asuncion, however, it was above all padel that won, in a week that wrote a new page for the future of the sport, showcasing the best talents on the planet with a very high level of play that had grown compared to previous editions. Winning the gold medal was the Spanish national team, which won with a score of 3-0 against Argentina in the women's final, repeating with the same result in the men's final against Sweden.
In the women's final, Ferran/Portilla brought home the first point (Under 14) by beating Gosteli/Vilchez in three sets (4-6 6-2 6-4) and the same did Perez/Calvo (Under 16) with a 6-1 6-1 win over Propato/Floriani and the 'stars' Ustero/Alonso (Under 18) over Jensen/Ferreyra (6-4 6-3). Italy won the bronze medal with a 2-1 win over Sweden. Then it was the turn of the men's final, with Garcia/Fuertes winning the Under 14 match against Svensson/Waldenlöv (6-1 6-2). In the Under 16, Zamora/Calvo overcame Hodos/Jonsson with the same score. Finally, in the Under 18s, Gala/Collado defeated Slaryd/Axelsson 6-2 6-3. Argentina won the bronze medal thanks to a 2-1 victory over Paraguay.
Spanish triumphs also came in the 'open' draws: Covadonga Verdejo/Paula Ferran Diaz (women's Under 14), Andrea Ustero Prieto/Agueda Perez Ortiz (women's Under 16), Alejandra Alonso/Laura Lujan Rodriguez (women's Under 18), Nicolas Fernandez Diaz/Aaron Garcia Rubio (men's Under 14), Juan Zamora Perez/Francisco Cabeza Teres (men's Under 16), Guillermo Collado/Marcos Gonzalez (men's Under 18). Finally, two Brazilian victories in the Under 12 Open: Rafaela Martina Lins/Martina Nilson Hossen in the women's, Eduardo Casagrande/Murilo Alves Sampaio in the men's.