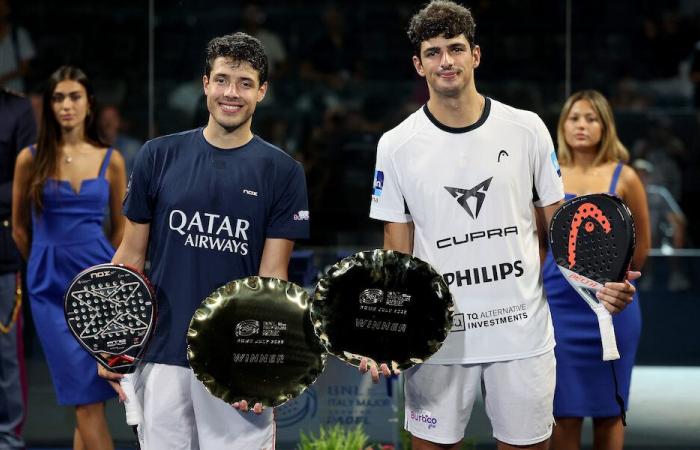 More than 10,000 people attended the finals of the BNL Major Premier Padel in Italy, the first tournament on the FIP circuit that finally hosts the female category. Gemma Triay and Marta Ortega and the Golden Boys Coello and Tapia, were the winners at the emblematic Foro Italico in Rome.
This Italy Major Premier Padel left us the return of Juan Lebrón to the slopes with Ale Galán, after a few weeks of injury
Some finals that were attended by legendary Italian football stars, such as Francesco Totti, Marco Materrazi and Daniele De Rossi.
Triay/Ortega triumph among women.

In the last women's act, however, came the somewhat unexpected victory of Gemma Triay and Marta Ortega. The two Spaniards (seeded No. 2), who had never won a tournament together before yesterday, in fact, certainly did not start as favorites against the world number 1 Paula Josemaría and Ariana Sánchez, but thanks to a fabulous performance they managed to win the final 6-3 3-6 7-5 after two hours and 47 minutes of play.
25,000 people and 1.2 million euros prize money 44% more than last year.