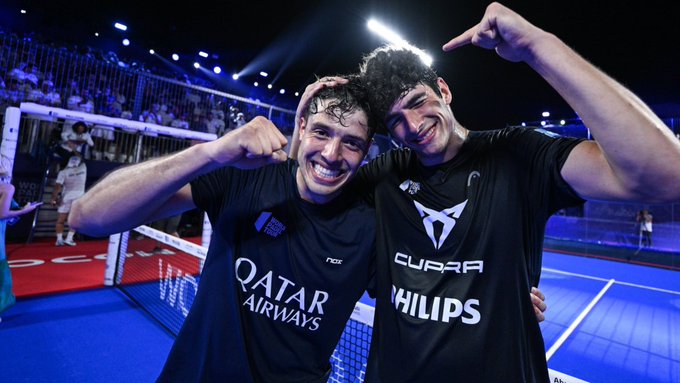 The Abu Dhabi Master 2023, the first appointment of the new season of the World Padel Tour, has just ended in the United Arab Emirates. In the men's tournament came the first success of the new couple Agustin Tapia.
They defeated first Gonzalo Rubio and Javier Ruiz in the semifinals with a clear 6-2 6-3 and then, world No. 1 Juan Lebron/Alejandro Galán in the last act of the tournament 7-6 6-3.
"I admire the work that Lebron and Galan have been doing for years. They are our reference. I'm very proud of the team we've put together in such a short time," said Coello in the post-match interview.
Sheikh Saeed Bin Maktoum Bin Juma Al Maktoum, President of the UAE Padel Association, presented the trophies to the winners of the 2023 World Padel Tour season.
Padel's meteoric rise as the fastest-growing sport in the region is nothing short of remarkable, and the Modon Abu Dhabi Padel Master provided a unique opportunity to embrace the sport's burgeoning popularity, creating a platform to celebrate and appreciate the UAE's padel community and passionate enthusiasts.
The final attendance figure of 6,000 visitors highlights the rising popularity of padel in the UAE, with more people discovering and enjoying the sport each year.